Among United Kingdom's nations, Scotland stands out for its castle-peppered counties and resplendent natural sceneries. If you have a UK visa, then Scotland is a place you should not miss visiting when you are in the UK. You will be left amazed at the beauty of this destination. If you don't know where to go and what to do once you reach Scotland, take a look at this list of top ten things to do
and the
most beautiful places in Scotland
for some ideas.
1. Visit Scottish castles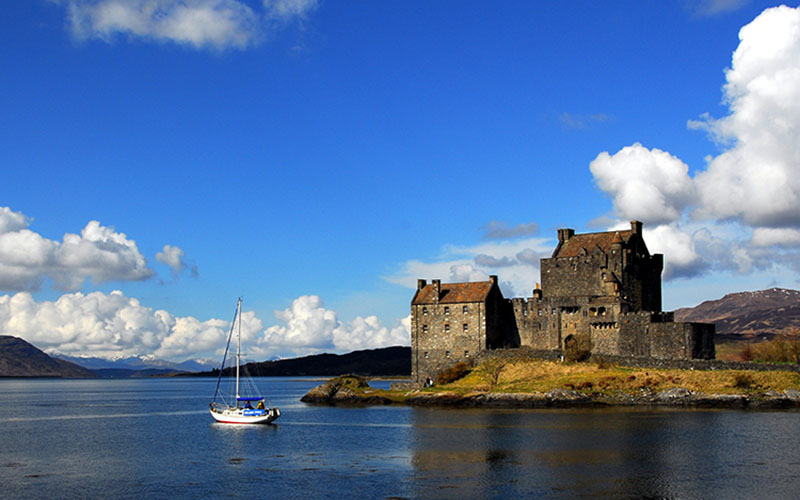 You simply cannot avoid visiting Scotland's rustic, impressive castles. There are so many of them that you will never be far from one no matter where you go! The first obvious must-see castle is Edinburgh Castle, which stands grandly amid rugged terrain. Stirling Castle is yet another stunning fortress to see while in Scotland. Visit Aberdeenshire, which is known for its Castle Trails, which enables you to see over 14 stunning castles at a go. The wide selection of castles strewn across Scotland's 33 counties offer a chance to step back in time amid serene, breath-taking scenery.
2. Explore Edinburgh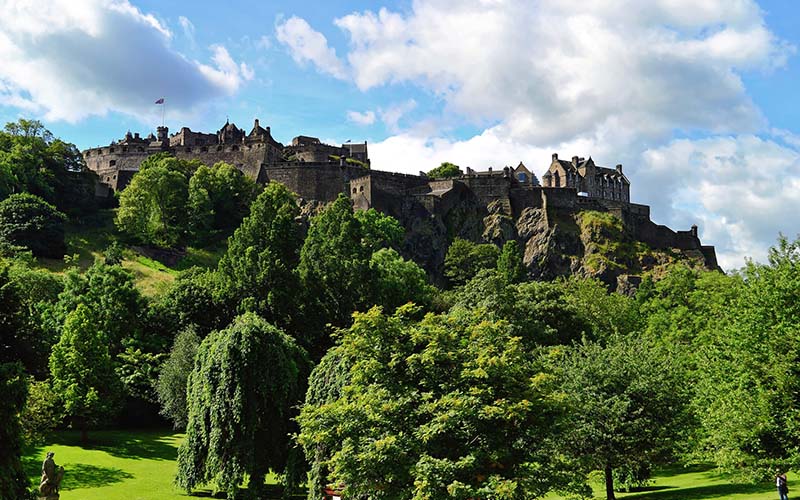 The capital of Scotland is compact, hilly terrain that is drenched in historic tales. While you are here, you simply cannot miss visiting the iconic fortresses, Scottish Parliament, and other historic power of seats, the stunning cobbled streets, and the sights of Royal Mile, and taking in the view from Calton Hill.
There are several more usual and
unusual things to do in Edinburgh
.
3. Spend some time onboard the Royal Yacht Britannia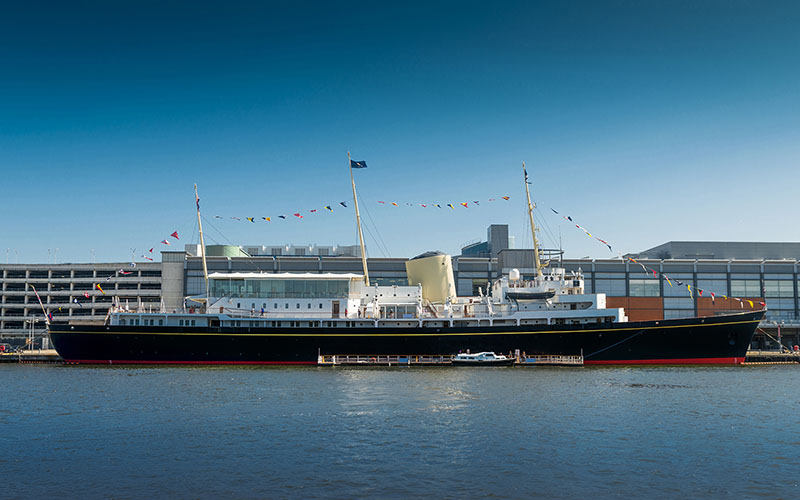 Here's your chance to walk in the steps of British Royalty. Step on board The Britannia – the beloved royal yacht of Queen Elizabeth on which the Royal family had made 968 state visits. It was decommissioned after forty years of service and presently, is docked at Ocean Drive in Leith. It is now open to the public for guided tours where you can explore the five decks of the yacht, the royal rooms, and even have an Afternoon tea experience at The Royal Deck Tea Room.
4. Discover Scotland's Loch Ness on a cruise
Scotland is well-known for its freshwater lochs, one of which, Loch ness in Inverness, is famous for its natural scenery as well as the mythical monster known as Nessie. This second largest loch in Scotland is best explored by boat. Board a sleek ship and set sail to see breath-taking views of Loch Ness, Urquhart Castle, Fort George, and the picturesque countryside and Scottish towns.
5. Spend some time at the Isle of Skye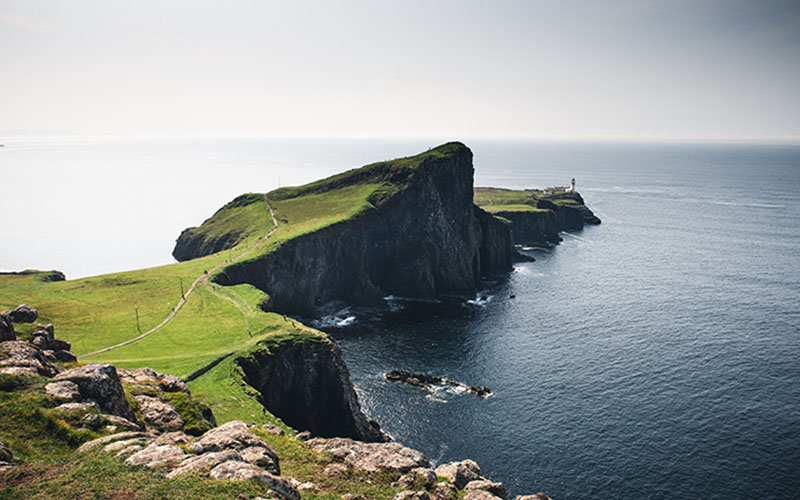 The Isle of Skye has one of the most beautiful views in Scotland. It is famous for its dramatic landscapes such as Brother's Point, Kilt Rock and Mealt Falls, Fairy Glen, and Neist Point, which any nature photographer would love to capture in their lens. It is peppered with quaint fishing hamlets and sweeping rugged landscapes. This is a haven for nature lovers seeking solace in mother nature's arms. Don't forget to keep an eye out for adorable Highland cows grazing blissfully in the lush greenery landscape.
6. Take a scenic ride onboard a train
Get off the road and onto a train, which is by far the most fantastic way to fully appreciate Scotland's dramatic, lush, and picture-perfect scenery. The train rides cover more ground in a shorter period of time, providing an incredible opportunity to explore more of the wonderful Scottish natural scenery in a paced yet in a concise time frame. The Jacobite train ride is one of the most spectacular rides to enjoy, taking you from the foothills of Ben Navis to the Glenfinnan Bridge, also known as the arch bridge that the Hogwarts Express is seen chugging in Harry Potter movies. Further, it travels through the village of Arisaig before arriving at Mallaig. You could also take the train from England to Scotland and watch the beautiful landscapes change as you approach the Scottish region. It's a sight to behold!
7. Check out the Scottish distillery
When you visit Scotland, you learn to enjoy life at a slower pace, and also to enjoy a good drink of Scottish brews! Scotland is well-known for its Scotch whisky and distilleries. So, when visiting Scotland, it goes without saying that you should visit famous whisky regions such as Speydise and Highland, learn about whisky distillation, and bring a souvenir back for yourself to enjoy at home!
8. Explore Fort William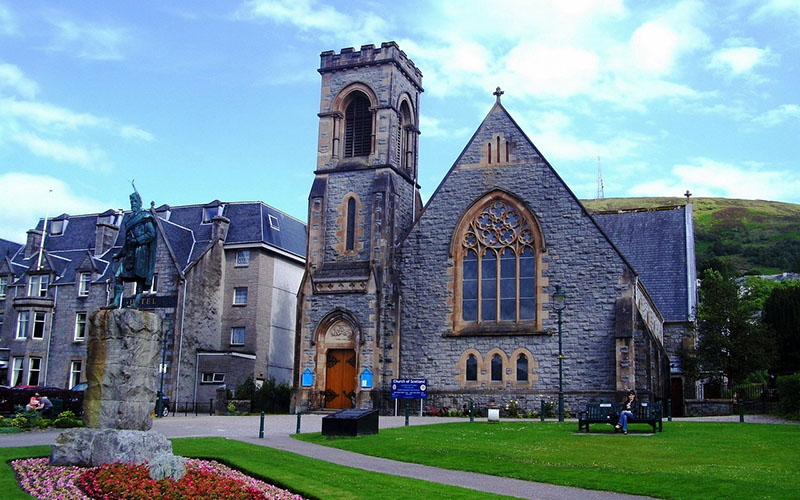 Fort Williams is a stunning township in West Scotland that is popularly known as the gateway to Glen Nevis valley and Ben Nevis, Britain's highest peak. Fort William is especially well-known for its wildlife viewing and outdoor adventures. Bicycle trails through this vast rural wilderness are perfect for exploration, or you can visit during the winter to go skiing at Nevis Range in the Aonach Mor mountains.
9. Discover Dornoch in the Scottish Highlands
Famed for having the perfect topography for golfing, Dornoch – a small hamlet in Scottish Highlands offers an impressive scenic panorama for its visitors. The township is also one of the
best places to visit in Scotland
to enjoy Scottish Bagpipe band parades which happen during summers. This may be one of the spots on the planet where you can go shopping inside a jail! The Old Dornoch Jail which is a massive castle is now transformed into a shopping outlet which lets you explore a piece of heritage while enjoying a retail therapy. Being a seaside township, Dornoch also lets you enjoy some tranquil time at the beaches.
10. Soak up some sun at Luskentryre Beach
Speaking of beaches, there are many to explore in Scotland. One among them is Luskentryre Beach which has earned accolades as UK's best beach for many years. This stellar beach of pristine white sand and turquoise water on the Isle of Harris is ideal for an idyllic stroll in the sun or a refreshing swim. The backdrop of impressive mountain terrains on one side enhances the beauty and postcard-perfect appearance. An excursion to Luskentryre Beach is one of the best things to do in Scotland for couples.
11. Hike to the Highest Mountain in the UK, Ben Nevis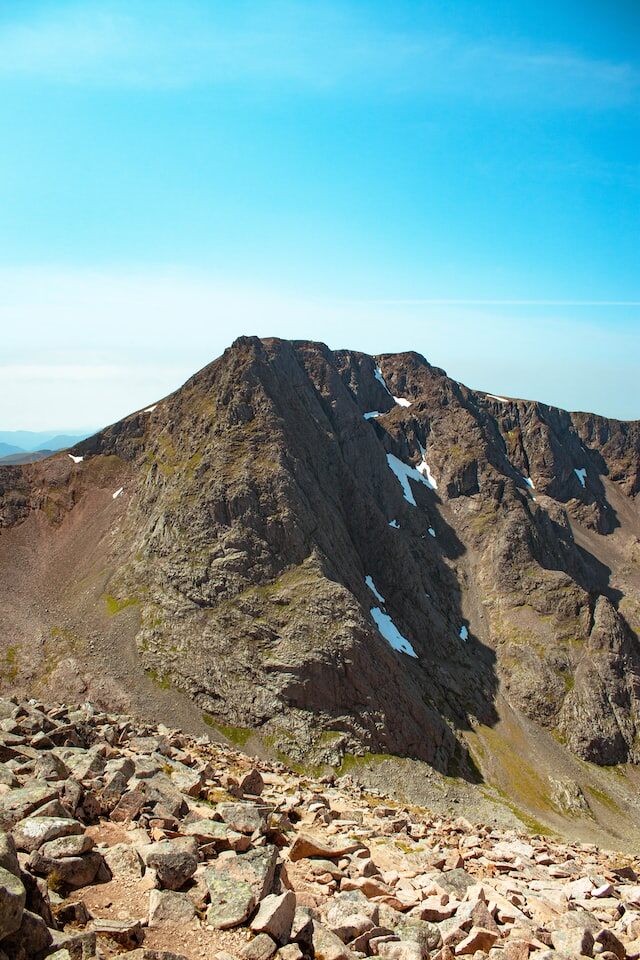 Ben Nevis, the highest mountain in The United Kingdom, is located in the Scottish Highlands. This huge mountain stands at an impressive height of 4,411 feet (1,345 meters). While it may not be the tallest mountain in Europe, it is certainly the tallest in the UK. There are several things to do here at this stunning natural wonder. The most popular way is to hike up to the summit. There are a number of different routes you can take, ranging from easy walks to more challenging climbs. No matter which route you take, in the end, you will be rewarded with incredible views of the Scottish Highlands.
12. Explore Scotland's Secret Bunker
Nestled in the picturesque Scottish countryside, Scotland's Secret Bunker is a hidden gem waiting to be rediscovered. This unique place allows tourists to explore a real-life Cold War bunker. The best part of this place is that the original furnishings and equipment are still present. Scotland's Secret Bunker was built in the late 1950s to serve as a top-secret government facility in case of nuclear war. Today, it stands as a fascinating reminder of the Cold War era. Visitors can explore the bunker's many rooms, which include the control room, dormitories, kitchen, and hospital. You can also learn about the historical significance of this bunker in Scottish history through interactive exhibits and audio-visual presentations.
13. Try Your Hand at Golf at St. Andrews
Golf has been played on the links at St. Andrews for several centuries, and today, the Old Course is still one of the most popular golf courses globally. If you're a fan of the game, a visit to the Ancient Golf Club of St. Andrews is something which you should not miss out on. St. Andrews is considered the oldest golf course and is certainly one of the most famous. The 18-hole course is situated on the coast of Fife, and if you want to test your golfing skills, no other place is better than this. Visitors get to start from four different starting points, and there are plenty of challenges to keep even the best golfers occupied.
14. Walk through the Trossachs National Park
The Trossachs National Park is breathtakingly beautiful, with plenty of things to do. The park has many picturesque lochs, rolling hills, and ancient woodlands. You can also try various adventurous activities like hiking, cycling, and wildlife watching here. There are also several historical sites within the park, which also include the ruins of an old lost world castle. Whether you're looking for a peaceful getaway or an action-packed adventure, the Trossachs National Park will surely make your trip memorable.
15. Boat Ride at the Fingal's Cave
Fingal's Cave is one of the most unique and incredible natural wonders. This sea cave is located near the uninhabited island of Staffa in the Inner Hebrides. It is a natural formation formed entirely from hexagonally jointed basalt columns. You can hitch a boat ride through the cave from nearby Mull. You can also enjoy the eternal beauty of this place firsthand by taking a brisk walk with your partner along the shore.
16. Explore the Past at Buchanan Castle
Buchanan Castle, located just near Loch Lomond and Trossachs National Park, is a must-visit for any history lover. The castle was built early in the 13th century by Walter fitz Alan and has been home to the Buchanan clan ever since. You can walk through the area and explore the castle grounds, including a beautiful garden and an ancient chapel. Here you also get to witness stunning views of Loch Lomond, making it the perfect spot for a romantic getaway or a hike.
17. The Remote Shetland Isles

The remote Shetland Isles are home to some of the most incredible and exotic wildlife. From red deer and red-throated divers to otters and seals, there are many things to experience on these beautiful islands. Here is a list of some of the amazing wildlife experiences you can have on the Shetland Isles: Spot exotic birds like the red-necked phalarope and great skua. You will witness the dolphins, porpoises and orcas off the coast if you are lucky enough. Seal watching is a popular activity in many colonies around the islands. Explore the rugged landscapes in search of wildflowers, butterflies and dragonflies.
18. Orkney, Skara Brae
Situated on the island of Orkney, Skara Brae is one of Europe's best-preserved Stone Age villages. It is even older than the Great Pyramids and Stonehenge. This ancient place is estimated to have been built over 5,000 years ago. Until 1850, it was hidden inside a sand dune. It was later revealed after a sandstorm ravaged the place. The stone walls were preserved almost immediately by sand, which ensured their relatively undamaged appearance. Due to its outstanding preservation, Skara Brae has been dubbed the "Scottish Pompeii" by the local people.
19. Day trip at the National Museum of Scotland
From the moment you step into the National Museum of Scotland, you will be transported to a world of history, culture, and art. With so many incredible exhibits to see, you can easily spend an entire day exploring this amazing place. Here you will also find exhibits on Scottish history, archaeology, geology, and natural history. In the interactive children's gallery, kids get to learn about Scottish culture in an exciting way.
20. Rotating boat lift at the Falkirk Wheel
The Falkirk Wheel is a rotating boat lift in Scotland that connects the Forth and Clyde Canals with the Union Canal. The wheel was opened in 2002 and is the only rotating boat lift of its kind in the world and is a popular tourist attraction. Scotland is truly a breathtaking destination with so much to offer. From the beautiful landscapes to the pub culture in Edinburgh and Glasgow, Scotland has something for everyone. Go ahead, start planning your next Scottish adventure today!
Conclusion
Scotland is fascinating and the above-mentioned list does inspire an urge to visit Scotland for the next vacation. So don't wait up! Chalk up a Scotland travel itinerary and gear up for one of the most memorable journeys of your life!