For a lot of visitors to England with a UK visa, London City is their primary stop and they rarely venture beyond the Cotswold, Bath, Manchester, and York regions. If you look to the southeast of England, you will find the idyllic English destination of Kent. Located in the north of Kent is Herne Bay – a serene coastal township that also acts as a relaxing weekend seaside resort for England city dwellers. Herne Bay is often referred to as the classic seaside resort of England and is an excellent choice for globetrotters with a UK tourist visa who are looking for an offbeat experience. Intrigued about this destination?
The following are the top 10 things to do in Herne Bay that visitors can look forward to on a vacation.
1. Stroll along Herne Bay Pier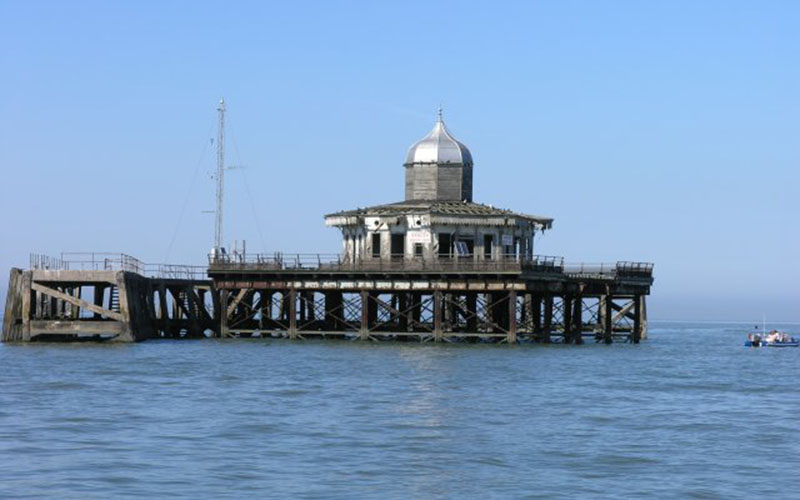 Image Credit: https://en.wikipedia.org
Take a trip along Herne Bay's stunning coastline and check out Herne Bay Pier-one of Kent's most famous landmarks. Built in 1800, the pier measured more than 3000 metres long. The pier, however, was destroyed over time by war and natural occurrences and only a stub of it currently protrudes out into the sea. Herne Bay is transformed into a delightful fun fair where visitors can enjoy beautiful views and enjoy fun activities with friends and family, including riding old-time merry-go-rounds and watching live events.
---
---
2. View colourful beach huts
Take a stroll along the seafront and you'll reach one of the most Instagrammable places in Kent. Lined along the beaches are several beach huts in vivid colours. Some even spot designs and patterns. In contrast to the natural hues of the surroundings, the beach huts stand out with their riot of colours. These attractions are one of the best things to do in Herne Bay for tourists to capture some vivid memories and flaunt them on social media.
3. Go shopping
Shopping in England's countryside is an amazing experience. It steers away from the hustle and bustle of the city. Herne Bay is well known for its high street shopping where one can find an array of merchandise. Take advantage of boutique outlets, antique shops, and art galleries that offer charming souvenirs to bring home. Also, the Herne Farmers and Craft Market is an amazing place to see local artisans and traders come together to offer the best local produce and crafts. Additionally, this is a splendid spot to try local cuisine.
4. Discover ancient attractions
Herne Bay's scenic sea views are popular, but the township is also filled with snippets of its past. Several ancient landmarks can be found in Herne Bay, such as the Clock Tower, which is an iconic landmark. Herne Bay is home to the Reculver Tower and Roman Fort, remnants of 12th-century architecture that have withstood the test of time. A view of the tower against a backdrop of a sunset is one of the most scenic sights you will see in the whole of England.
---
---
5. Try adventure sports
Herne Bay offers a coastline with pristine water that turns into a fantastic place to enjoy paddle boarding. Water sports such as this gentle yet thrilling activity are an excellent way to experience the tranquility of this charming town and to appreciate its beauty. Away from the coast, you can find splendid woodland trails ideal for peaceful cycling excursions. There is quite a bit to see in the town that is best appreciated on a bike tour around the town.
6. Visit Herne Bay Memorial Park
Among the most spacious verdant landscapes to explore, Herne Bay Memorial Park is a breath-taking spot to just relax and soak in the natural settings. Built as a tribute to the fallen heroes of World War I, the park also doubles up as a place for family and friends to gather together and for kids to have a lovely time in the park.
---
---
7. Try your screen printing skills
One thing most tourists will notice in Herne Bay is that the locals are quite enthusiastic about art and craftsmanship. One of the skills that stand out is the screen printing skills and you can very well try your hand at this genre of art at screen printing workshops. An expert will guide you through the process and you can make your own t-shirt or scarf printed in your choice of designs made by you. It is a great souvenir to carry back home with you.
8. Watch gorgeous sea views at Neptune's Arms
Image Credit: https://www.flickr.com/
Built as a breakwater away from the coast of Herne Bay to protect it from crashing waves, Neptune's Arm is another popular place to visit in this township. Take a walk on the boardwalk that extends farther into the sea and abruptly cuts off making you feel like you are standing at the end of land with nothing but water ahead. With the exciting view of the sea and the cool sea breeze on your face, this experience is sure to leave a lasting impression on you long after your trip is over.
---
---
9. Spend some time at the Seaside Museum
Now that you have strolled along Herne Bay, soaking in its picturesque views, it is time to retrace your steps and spend some time learning about its history, culture, and heritage at the Seaside Museum. Learn about how this seaside town has survived the test of time, its historical tales, and even go through some exhibits and photographs that detail the rich marine and birdlife in the region. This is an excellent way to learn a bit more about this quaint township and it is a lot of fun.
10. Explore the eclectic food scene
Finally, no holiday is complete without some time spent exploring the food scene. You can find British cuisine at Herne Bay, as well as a variety of seafood and Indian and Chinese dishes. The Vintage Empire, Bay Leaf Coffee House, and Wallflower Cafe all offer delectable menus filled with sumptuous flavours. You can also take a wild food foraging tour with an expert who takes you on a fantastic journey of discovering wild edibles and getting familiar with local flora, as well as enjoying a unique food experience.
Featured image:
Image Credit: https://www.flickr.com
---
---